What Does the Recent Rise in Mortgage Rates Mean for You?
Mortgage rates are rising, slightly, and this shouldn't be quite the bombshell that it has been for some. Haven't we been hearing that the Fed wants to raise rates for a while now? That it could finally happen in December? Blame it on the election or the economic atmosphere in general, either way it's not a huge deal for most home buyers.
The weekly average for a 30 year fixed rate mortgage rose above 4% for the first time since 2015. While this small increase may in fact push some low income buyers over the edge of qualifying for a mortgage, for the majority it will simply mean a modest increase in your monthly payments. A 30 year fixed rate mortgage at 4% or more is still historically low – less than half of the average rate for the last 45 years. If you're currently working with a lender and this rate increase has you worried, ask them to do the math for you. I think you'll be surprised to see that it amounts to, say, a $40/month increase (this amount is obviously dependent on the total amount borrowed). This may cause some buyers to reevaluate their budget and not overreach, but that's good advice to follow regardless.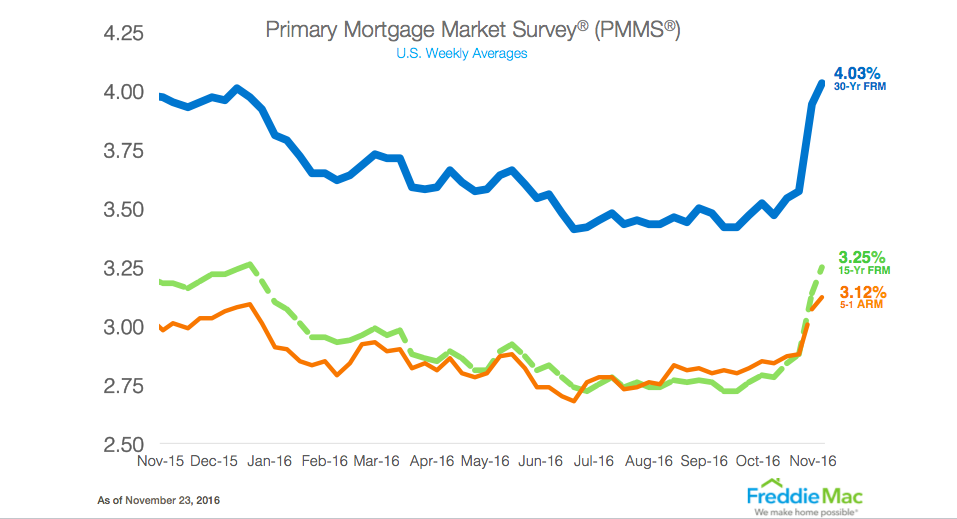 If you have been in the market searching for a home or were considering it, here's the bottom line: industry experts don't consider this rate increase to be just a knee-jerk reaction to the election, but a trend that may slowly continue. Couple that with the fact that median home prices continue to rise across the country (up 6.7% YTD for San Diego County according to SDAR) and you may soon realize that the wait and see approach could end up costing you even more.